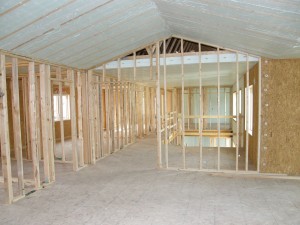 Our ceiling insulation material is from Nudura, the same manufacturer as our Insulated Concrete Blocks in the exterior walls.  The Nudura Ceiling Technology is a 2.5″ or 3.5″ sheets of EPS with built-in wood strappings for simple installation of drywall.  These were delivered onsite as 4'x8′ sheets with ship lap edges, which provides a tight fit at the seams.
Our installation consisted of, from top to bottom, the roof truss, a 1/2″ sheet of drywall, a 3.5″ sheet of the Ceiling Technology, followed by another 3.5″ sheet running in perpendicular direction, and finally a finish sheet of 1/2″ sheet of drywall.  The ceiling insulation "sandwich" assembly hangs on the underside of the roof truss system, which completely eliminates any thermal bridging of wood.
In total, we have 7″ of EPS, which would in theory only net an R27 based on the EPS alone, and below what the Ontario Building Code requires.  However, because of the reduced thermal bridging and the greatly reduced air leakage, Nudura has tested the product in the field and have shown for the product to perform at an equal or greater than an R60 fiberglass batt or loose fill type insulation.
For our project, there was a cost increase of approximately $7,500 compared to a 12″ loose fill sprayed in cellulose, but with far better performance in heat loss as well as air infiltration.
CaGBC LEED for Homes – Points can be acheived in Energy and Atmosphere, in Insulation (EA 2), or exceptional energy performance (EA 1.2) via the ERS/HERS method.