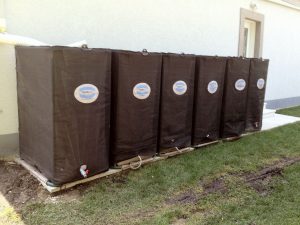 In the summer of 2005, a rain storm ripped through southern Ontario.  In Thornhill where our site is located, up to 8″ of rain fell in 45 minutes, causing some of the most severe flooding the area has seen.  Since then, newly constructed buildings in the area were mandated by the Town of Markham to have on site rain storage, the volume to be determined through a formula and based on the additional land coverage of the new building.  The purpose was to alleviate the load on the storm sewer system as it was at capacity.
In our case, we were required to store 2000L of water.  We ruled out a leach pit (i.e. an underground "cistern" that allows water to seep slowly into the ground) because of the costs involved, and decided at at grade storage was the most practical choice.  As we went on to investigate on certifying the house under the LEED for Homes program, we did some calculations and decided to store on site 6000L of rain water.
We acquired 6 of the 1000L slimline Handytanks, which were not barrels at all, but marine grade PVC supported by a steel frame, all of which is neatly packed in a flat box for transport.  We were able to fit all 6 of them in my Prius, to give an idea how compact they were to transport.
The 6 "tanks" are connected together to make an intertied system, and we have the entire rear half of the roof's rain flowing to the tank via an 80′ long eavestrough.  Tanks were placed at the edge of the building, which also simplifies the plumbing when compared to an underground storage system.
In the spring, we will be installing a sprinkler system, and our hopes is to contstruct a system so that it would priority on using the rainwater before using the municipal water for irrigation.
CaGBC LEED for Homes – Points can be acheived in Water Efficiency, in Rainwater Harvesting System (WE 1.1).