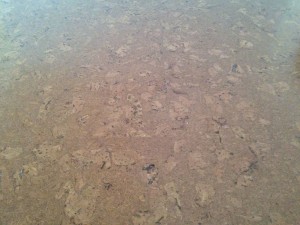 Cork flooring was chosen for about 70% of the floor space, except for bathrooms (where we used tiles and/or stone), and the living/dining/office, which we went with a traditional hardwood.
The cork flooring has a very unique pattern that doesn't resemble traditional hardwood, one that you either love or hate.  In our case, we chose function and comfort over esthetics (not that we mind the look), as the cork floor is a softer, warmer, and overall more comfortable floor to stand and walk on.  The randomness of the pattern allows scratches and scuffs to be less visible.  A side benefit is the sound absorbancy of cork, which should help dampen the sound travelling throughout the house.
We had considered a slate floor for the family room, kitchen, and dining room areas, where it would have benefitted from the thermal mass effect of the winter sun shining on the floors as these rooms were south facing, but in the end comfort won out, and cork it was.
Our flooring was sourced from Jelinek Cork Group in Oakville, one of the oldest cork companies around.  We chose their Sierra Brown in a floating style floor, with a further 2.5mm cork underlayment.
Installed costs were about $7.50/sqft (at list price), similar to hardwood flooring.
CaGBC LEED for Homes – Points can be acheived in Material and Resources, in Environmentally Preferable products (MR 2.2).